Notation and sound generation of the Contrabassoon - Philipp Dangas
Notation and sound generation of the Contrabassoon
The contrabassoon is one of the transposing instruments (the "16-foot") of the bassoon family. Its scale is notated like that of the normal bassoon, but sounds an octave lower. Only the bass clef is used here, since its scale does not reach as far upwards as that of the normal bassoon. However, by adding the special "A-falls" the scale can be extended down to sub-contra-A2. The pitch range of the contrabassoon ranges from B1 to about b1. In contrast to the scale of the normal bassoon, which spans three octaves and a fourth, it only covers about 2 octaves and a fifth. This is not a disadvantage, since the normal bassoon is better suited for the upper register of the contrabassoon. The fingering technique and the technique of overblowing corresponds to the technique of the normal bassoon, but the contrabassoon does not respond as quickly, which has a special effect on staccato passages.
A striking and somewhat heavy-sounding sample of the contrabassoon [Music composer: Modest Moussorgsky]
Download size: 354 kilobytes
Table summary of the playing techniques on the Contrabassoon
The table below shows the playing techniques and playing effects on the contrabassoon shown. The playing techniques that are not suitable are also briefly mentioned.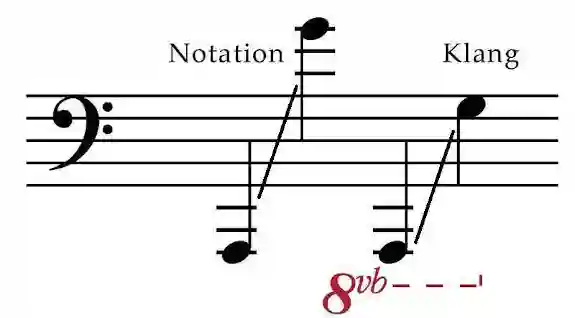 The tonal range of the contrabassoon in large scale
From H1 to b1
To-do list on the website