Construction and function of the Bass drum - Philipp Dangas
Construction and function of the Bass drum
The main components of the bass drum are the cylindrical frame and the two skins stretched over the openings in the frame. The dimensions of the frame determine the sound power, sonority and resonance of the instrument. The frame is usually made of plywood.
In the bass drum of the symphony orchestra, the diameter of its frame is 780 mm and the height is 560 mm. The two skins are attached like the skin of the timpani. They are attached to a rim and are each held and tensioned by an iron pull ring on the frame. The pressure of the pull ring on the head is fixed to the frame with 12 screws on large instruments.
With smaller instruments, the pressure is regulated by 10 or only 8 screws. The skins are mostly made of calfskin. The batter head is usually thicker than the resonance head. The single beat is usually played with the bass drum mallet. The timpani mallet is always used to perform the roll in the symphonic orchestra.
A great sound example of the bass drum
Download size: 87.8 kilobytes
Table summary of the components of percussion instruments
The table below shows the components of percussion instruments This is where drumsticks, batter skins and shells are used and pedal briefly described.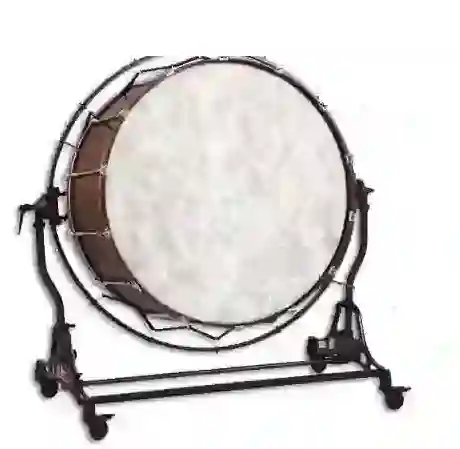 The use of a bass drum in Classical music
In classical music, composers have much more freedom in the way the bass drum is used than in other genres of music &helip;Apart from the standard beaters mentioned above, implements used to strike the drum may include keyboard percussion mallets, timpani mallets, and drumsticks. The hand or fingers can also be used (it. con la mano). The playing techniques possible include rolls, repetitions and unison strokes. Bass drums can sometimes be used for sound effects. e.g. thunder, or an earthquake.[5]  …Referenz: https://en.wikipedia.org/wiki/Bass_drum
To-do list on the website