Construction and function of the Contrabass tuba - Philipp Dangas
An remarkably fitting sound example of the contrabass tuba [Music by Richard Wagner]
Download size: 133 kilobytes
Table summary of the functional principle of the brass instruments
Table with key data on the functional principle of the brass instruments. Mouthpieces, tubes, bells and valves, will be briefly described. In addition, the term overblowing technique is defined.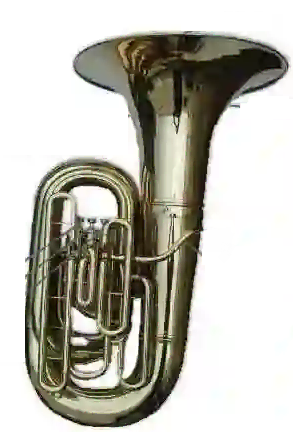 The structure of a contrabass tuba in large representation
The lowest pitched tubas are the contrabass tubas, pitched in C or B♭, referred to as CC and BB♭ tubas respectively, based on a traditional distortion of a now-obsolete octave naming convention. The fundamental pitch of a CC tuba is 32 Hz, and for a BB♭ tuba, 29 Hz. The CC tuba is used as an orchestral and concert band instrument in the U.S., but BB♭ tubas are the contrabass tuba of choice in German, Austrian, and Russian orchestras.
In the United States, the BB♭ tuba is the most common in schools (largely due to the use of BB♭ sousaphones in high school marching bands) and for adult amateurs. Many professionals in the U.S. play CC tubas, with BB♭ also common, and many train in the use of all four pitches of tubas
To-do list on the website