Historical development of the Contrabass tuba - Philipp Dangas
Historical development of the Contrabass tuba
The contrabass tuba in Bb or C is the largest and deepest tuba. They are also called "Kaiserbass". Other designations are: 16' or 18' bass tubas or CC or BB tubas, whereby the designation "CC tubas" is not entirely correct, because the fundamental C is merely a contra C (i.e. C1) whereas that B is really a sub-contra-B (i.e. B2) and therefore this alone deserves the designation BB. They have 4 or more valves. The tuba player himself decides whether a part is to be played with the bass or contrabass tuba based on a few aspects (e.g. pitch, volume, composer's wishes, sound conception, etc.).
An orchestral tuba player must master both types of tuba with virtuosity. In German-speaking countries, the so-called alternation has become established, i.e. the tuba player alternates between the bass tuba in [F] and the contrabass tuba in B flat. It should also be noted that only a few composers expressly prescribed the contrabass tuba. Apart from Richard Wagner's Der Ring des Nibelungen and Richard Strauss' Elektra, this rule can also be found in Arnold Schönberg's Gurrelieder and Pelleas und Melisande, for example, and also in Anton Bruckner's 7th Symphony.
An sample of the very heavy sound of the contrabass tuba [Music composer Richard Wagner]
Download size: 133 kilobytes
Table summary of use of the contrabass tuba in music
The table below shows the use of the contrabass tuba in music shown. Musical works are performed with the name of the composer and the work.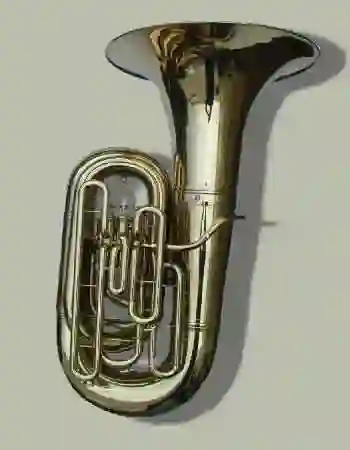 The contrabass tuba in large scale
The contrabass tuba in Bb or C is the largest and deepest tuba.
A very wide-bore form of the contrabass tuba is the "imperial bass". It is used almost exclusively in brass bands.
To-do list on the website