Historical development of the Trumpet - Philipp Dangas
Historical development of the Trumpet
Today's usage refers to all trumpets consisting of a straight tube with a cup mouthpiece or a corresponding shape of the opening of the tube as the trumpets of antiquity. As well as wind instruments of that time provided with a bell, which were mainly used for cultic or military purposes. They can already be found in the earliest times among the Egyptians, Hebrews, Chinese, Indians, Greeks and especially in Roman antiquity.
Significant for the development of today's trumpet is the fact that the Roman "tuba" and the "Lituus" are not to be regarded as their immediate predecessors. Only with the advent of the "busine" in southern Italy in the 11th century did the actual development of the trumpet in Europe begin.
The busine with a cylindrical tube can be seen today as the main instrument of the trumpet and the trombone. Until the beginning of the 18th century the trumpet was mainly used in the low D tuning. In the time of Palestrina (1526-1594) and Giovanni Gabrieli (1557-1612), in which instrumental music developed epochally, the trumpet, which until then had only been used for military purposes and for festivities, was adopted into the orchestra. Claudio Monteverdi (1567-1643) already used them with a mute (sordino).
In the 2nd half of the 18th century, the trumpet was also played with the same stopping technique as with the horn. With the introduction of the valve trumpet, however, it fell completely out of use in the first quarter of the 19th century. Shortly after the middle of the 19th century, trumpet players began to use only the high Bb and high C trumpets.
Audio sample of the sound of the trumpet and very loud [Music by Joseph Haydn]
Download size: 784 kilobytes
Table summary of trumpet usage in music
The table below shows the use of the trumpet in music shown. Musical works are performed with the name of the composer and the work.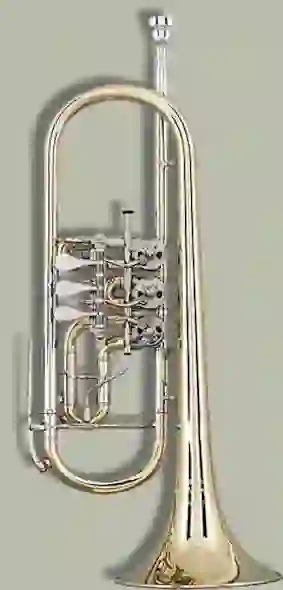 The trumpet in large representation
The Egyptians already played the first trumpets (lure and carnyx) 3500 years ago. The trumpet was initially elongated, without turns or valves. Up until the 19th century, it was therefore only possible to play natural tones.
The zinc made an exception. This is a slightly curved wind instrument mostly made of leather-covered wood. Tines made of horn were less common. The cup mouthpiece is also made of horn or wood. With the help of the seven finger holes, more than just the natural tones are possible.
To-do list on the website